Surface Preparation
Ferrous Protection offer a range of surface preparation services to remove existing linings or rust to enable steel inspections to be carried out and/or a new protective lining to be applied. The key to a successful lining system is getting the standard of surface preparation correct, which is why we offer a wide range of surface preparation methods to ensure the correct standard is achieved for our customers' specific requirement.
Methods of surface preparation include:
- Grit blasting.
- Captive blasting.
- Bristle blasting.
- Needle gun.
- Wet/slurry blasting.
- Mechanical preparation of localised areas using specialist hand- and power-tools.
- Low / High / Ultra-High pressure water jetting.
- Electro-magnetic thermal induction.
- Vertidrive crawler systems for remote controlled robotic jetting and blasting.
- Flame cleaning.
Health & Safety
Our operatives are specially trained in the various methods of surface preparation and can achieve a range of standards as required. We operate under an externally audited ISO45001 H&S Management system and maintain an industry leading H&S record to ensure all surface preparation works are carried out to the highest OH&S standards.
Site Surveys
Ferrous Protection have over 35 years of experience in the surface preparation industry, serving customers globally from small private companies to large multi-nationals and public sector bodies. We have an experienced and qualified management team that can carry out site surveys and recommend appropriate surface preparation levels and techniques to meet the customer's requirements.
---
Vertidrive
Ferrous Protection are set up to tackle all elements of site based surface preparation. From erecting encapsulated scaffold through to operating powered access, we can reach almost anywhere... And for the areas we can't reach, we have the Vertidrive - a world leading remote controlled magnetic crawler system.
Health & Safety Benefits
The Vertidrive can prepare surfaces by both grit blasting and Ultra High Pressure water jetting and is a favourite amongst our customers because it reduces the hazard of personnel operating high pressure equipment at height. It has the capability to operate on vertical surfaces and even upside down through the use of magnets and cables, and is operated by a trained and competent operative at floor level using a remote control directing the crawler where to go.
Environmental Benefits
The nozzles can be fitted with vacuum suction units which recover the spent grit or run off water. This is particularly useful when you want to recycle the abrasive or remove lead-based paint. The Vertidrive is an excellent option for environmentally-sensitive works.
Demo
To book in for a demo, don't hesitate in contacting us!
REQUEST A CALL BACK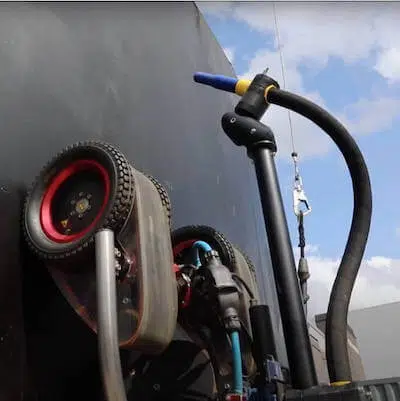 ---
Our Clients