GRP Lining / Intumescents / Passive Fire Protection / Chemical Resistant Linings
Ferrous Protection are widely recognised as one of the leading providers of specialist lining and industrial coating solutions in the UK.
We have an extensive track record of installing highly complex, technically demanding lining systems or maintenance coatings to offer asset protection against the harshest and most hazardous of cargos and environments.
Case Study 1 - GRP Lining in an 80m dia oil tank
Recently, Ferrous Protection were engaged by one of the world's seven oil and gas "supermajors" to install a GRP lining system into a new build 80m diameter, floating roof, bulk oil storage tank in the Caribbean. 
Ferrous Protection undertook extensive planning and preparations to ensure the project was delivered with minimal impact on the environment and with the highest levels of health and safety. 
To deliver the project, Ferrous Protection carried out the following:
- Preparation of a fully detailed HSQE pack covering all aspects of the work from start to finish. 
- Logistical planning, stuffing and shipping of 8no containers with all plant, equipment, tools and materials required to carry out the project.
- Implementation of atmospheric and engineering controls to maintain the correct environmental conditions within the tank as stipulated in the relevant specification.
- Procedural trials.
- Reinforcement of the waterproof membrane around the floating roof seal to prevent ingress of water.
- Low pressure water jetting of the internal substrates to bring the salt contamination level within acceptable parameters per the relevant specification. 
- Open nozzle abrasive blast cleaning with grade 3 iron silicate all vertical and intricate surfaces to BS EN ISO8501-1 Sa2 1/2 standard of surface preparation.
- Sweep blasting of the underside of the floating roof.
- Captive blasting using 2no 20E machines of the floor plates to BS EN ISO8501-1 Sa2 1/2 standard of surface preparation using a combination of reusable steel shot and angular abrasive.
- Applying a two component, epoxy holding primer at 30μm dft by airless spray to all prepared surfaces.
- Caulking all edgework, weld seams and intricate areas by brush and roller using a solvent free novolac phenolic epoxy mixed with silica sand at the mixing ratio of approx. 2:1.
- Applying a smooth, quarter cove finish on the annular weld using a solvent free novolac phenolic epoxy lining and silica sand mix with a mixing ratio of approx. 4:1.
- Applying the epoxy phenolic lining and glass fibre roving to the floor plates and 300mm lower shell to give a dft nominal of 1200μm.
- Whilst wet, rolling over the CSM lining to embed the fibres and work out any entrapped air.
- Hand laminating any areas on the floor that cannot be coated with the Matcote system using 2 layers of 450gm CSM followed by a 30gm veil tissue.
- Applying 2no coats of solvent free nolovac phenolic epoxy only to the 300mm-1.8m shell, water draw off nozzles, associated pipework, roof drains, outlet vortex breaker, and other similar 'small' items, excluding legs and stainless-steel landing pads. Generally, to an overall nominal dft of 800μm.
- Once cured, de-wicking the lining by hand abrading and vacuuming.
-  Applying 2no gel coats of solvent free novolac phenolic epoxy by airless spray to a nominal dry film thickness of 600μm.
- Once the lining was cured, fully trained, experienced and certified coating inspectors carried out their final inspections and signed the work off as complete.
The team consisted of 15no operatives including 3no working supervisors, a site manager, coatings inspector and 2no subject matter experts to oversee the blasting and GRP lining elements. The team was split into night shift and day shift operations to ensure the project was completed on time.
The project was completed successfully and the quality of the workmanship praised by the key stake holders.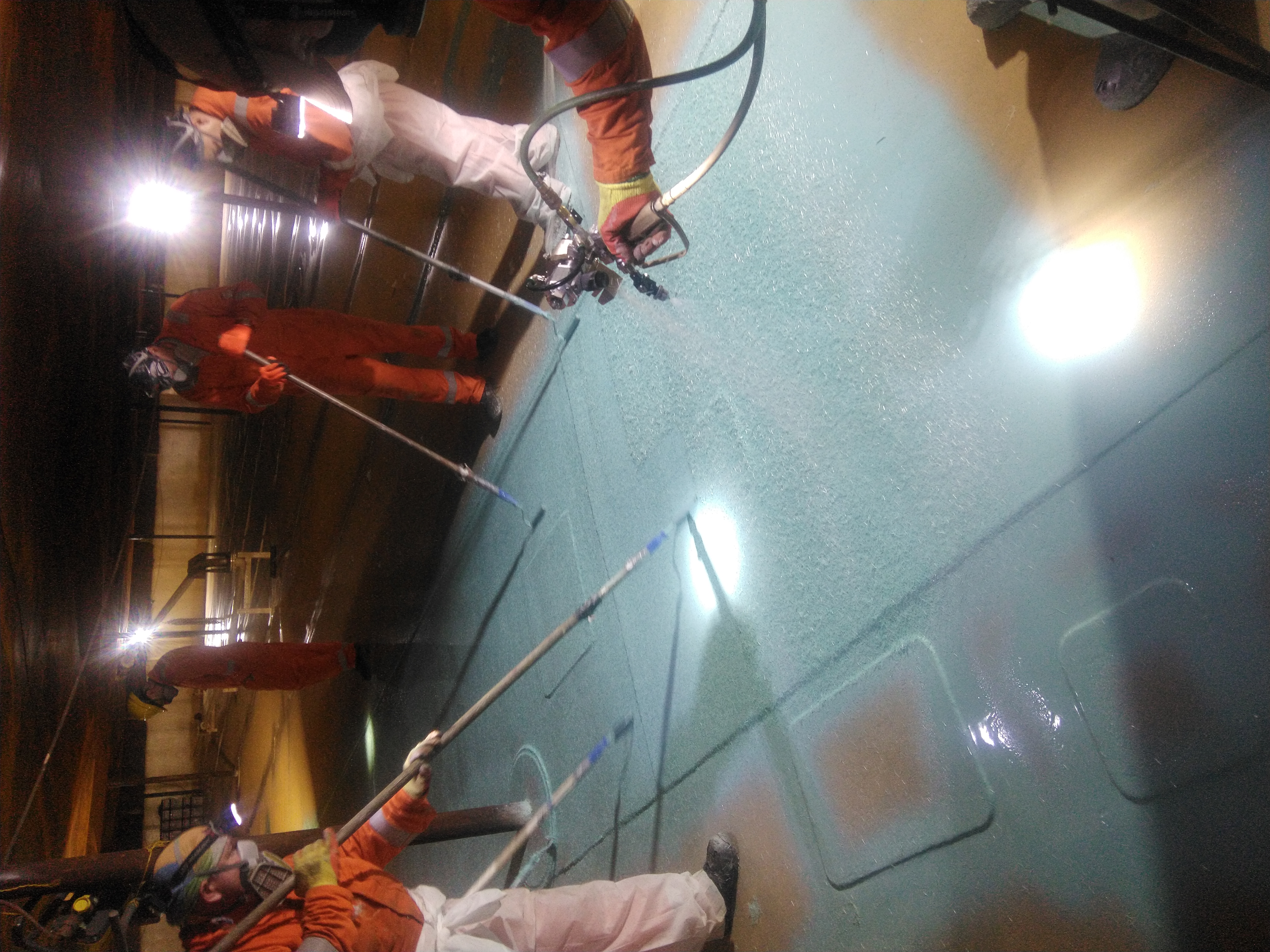 ---
Case Study 1 - High temperature pipework coatings
Ferrous Protection were recently drafted in to support the turnaround of one of the largest and most complex oil refineries in West Europe. The incumbent painting contractor was falling behind on its programme so Ferrous Protection were recruited to assist in completing the surface preparation and application of protective coatings on the field welds throughout the site to ensure the target completion date was met. 
We worked with the refinery team to prioritise the critical repairs and carried out the following:
- Solvent wash to remove chloride contamination.
- Prepare all seams and adjacent surface areas through open nozzle abrasive blast cleaning to ISO8501-1 Sa2 1/2 or air driven bristle blasters to SSPC SP11.
- Application of the protective coating systems which included:
- Two component, high build, high temperature resistant 'cold spray' applied coating, based on
titanium modified inorganic copolymer technology and pigmented with metallic aluminium lamellar flake.
- Two component, high build, surface tolerant epoxy barrier maintenance coating.
- Two component, aliphatic, acrylic polyurethane gloss finish.
A 10-man team was allocated to the contract including a Coatings Inspector and Projects Manager and within 5 weeks the backlog of anti-corrosion requirements had been caught up.
The support offered by Ferrous Protection in the turnaround to assist in the successful and timely delivery of the maintenance painting works was well recognised by the refinery management.
REQUEST A CALL BACK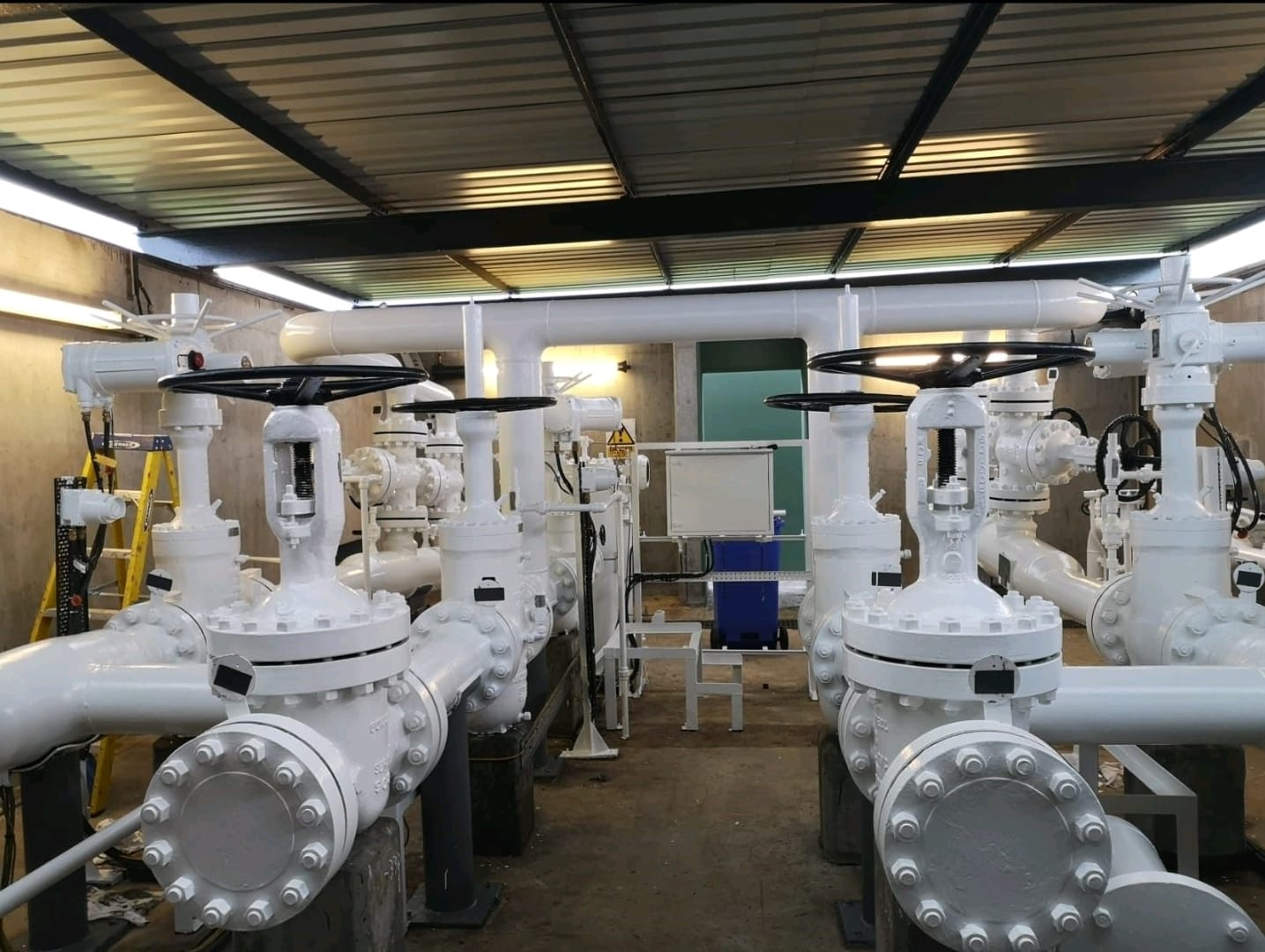 ---
Our Clients