About Us
Ferrous Protection Limited was founded in 1987 and quickly became a market leader in the application of solvent free epoxies in the UK.
Over the years the company has developed its service offering to include re-lining of chemical storage tanks, oil and fuel storage tanks, sullage and water tanks, bunds, coating of bridges, jetties, steel structures, concrete painting, intumescent coating and many more. Ferrous Protection have built an excellent reputation in the UK and International Markets synonymous with safe working and expert workmanship resulting is longstanding relationships with customers from the Oil Supermajors and the MOD, to local process manufacturing plants and chemical engineering firms.
We have experience working in most continents around the world and no matter how logistically or technically challenging the requirement is, we are committed to finding effective solutions to our customer's needs. We are proud of our heritage and the reputation we have developed through offering expert advice and reliable results to our customers, and our commitment to continuous improvement and customer satisfaction has never been stronger now we are partnered with Qualitech Environmental Services Limited.
Qualitech Environmental Services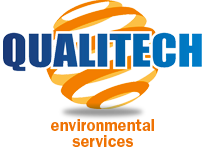 Qualitech Environmental Services are a leading waste management services company. To capitalise on the synergies in both of our service offerings between us, we can now offer more services under one roof from waste removal & disposal, asset cleaning, surface preparation and re-lining/re-coating. For more information on waste removal, disposal and asset cleaning, take a look at their website https://www.qualitechservices.co.uk
Health and Safety
Ferrous Protection is a longstanding member of RoSPA (Royal Society for the Prevention of Accidents) and is ISO45001 certified. Health and Safety is at the forefront of everything we do and our commitment to fulfilling our duties under Health and Safety Act 1974 is taken extremely seriously. We hold regular Health & Safety Committee meetings which incorporate our workforce at all levels and weekly health and safety site inspections are carried out on every job where practicable.
A copy of our H&S Policy is available to download.
Environmental Awareness
With incessant planning and expert site management, Ferrous Protection are dedicated to minimising their environmental impact in line with their ISO14001 environmental management system. From pioneering the introduction of solvent free epoxies in the late 1980's, to introducing electric vehicles into our fleet, Ferrous Protection have a long history in fighting climate change.
Quality – BS EN ISO 9001 : 2008
We are ISO9001 certified and have excellent relationships with repeat customers of 20+ years through guaranteeing the highest quality of professionalism and workmanship to our clients. We have several TrainTheTrainer certified Trainers within the business to ensure our workforce keep up to date with the latest industry techniques and standards and employ NACE and ICorr Coating Inspectors up to Level 3 to oversee all works and inspections.
Our Clients