Industrial Painting
Ferrous Protection have experience applying protective coating systems in a wide range of environments. From freezing conditions at <0°C to hot and humid conditions at 35°C+. From underground chamber pipework, to bridges over watercourse and above ground storage tank roofs and shells, we have the capability to undertake any coating requirement no matter how complicated or complex.
We offer a variety of protective coating systems including barrier protection, sacrificial cathodic protective coatings such as zinc rich and aluminium epoxies, lamellar flake reinforced systems such as glass flake or Micaceous Iron Oxides, passivator coats such as zinc phosphate, UV protection e.g. polyurethanes etc.
Depending on the specification and application, we also offer a range of both reversible and convertible systems such as single pack linear chain polymers e.g. Vinyls, emulsions, bitumen, chlorinated rubbers etc; branch chain polymers such as alkyds, oil based and oleo-resinous systems and complex "network" chain polymers such as 2-pack epoxies, polyurethanes, zinc rich and zinc silicates, acrylic coatings etc.
What ever you need, don't hesitate to get in touch with our dedicated team by using the number or email in the top right hand corner of your screen and we will be happy to assist.
Case Study 1
Ferrous Protection were recently engaged by one of the UK's leading oil logistics companies to refurbish pipework at various RAF sites throughout the country.
The pipework was showing significant signs of corrosion and degradation throughout. The client's requirement was to carry out localised repairs and application of a protective coating system capable of withstanding low temperatures. 
Our team undertook the following tasks to refurbish the pipework:
- Low pressure water jet the pipework to remove loose rust, unsound existing coating, salts and other surface contamination.
- Open nozzle abrasive blast clean the localised areas of corrosion to BS EN ISO8501-1 Sa 1/2 standard of surface cleanliness using medium grade copper slag.
- Feather off edges of prepared areas to provide a seamless transition from steel to paint.
- Hand abrade the sound existing coating to provide an adhesive key.
- Apply a surface tolerant, aluminium epoxy sacrificial primer coat at 100μm dft by brush and roller to the prepared areas.
- Apply a surface tolerant, intermediate epoxy maintenance barrier coat at 100μm dft by brush and roller to the overall surface area.
- Apply a two component acrylic polyurethane finish coat giving excellent durability and long term recoatability to the overall surface area by brush and roller at 50μm dft.
- Wrap the flanges and soil to air interfaces with a denso system.
- Carry out the coating inspection and issue the customer with a QAQC hand back pack.
The project was brought in on time, budget and left the site looking clean and well maintained. The assets are now protected for a further 25 years.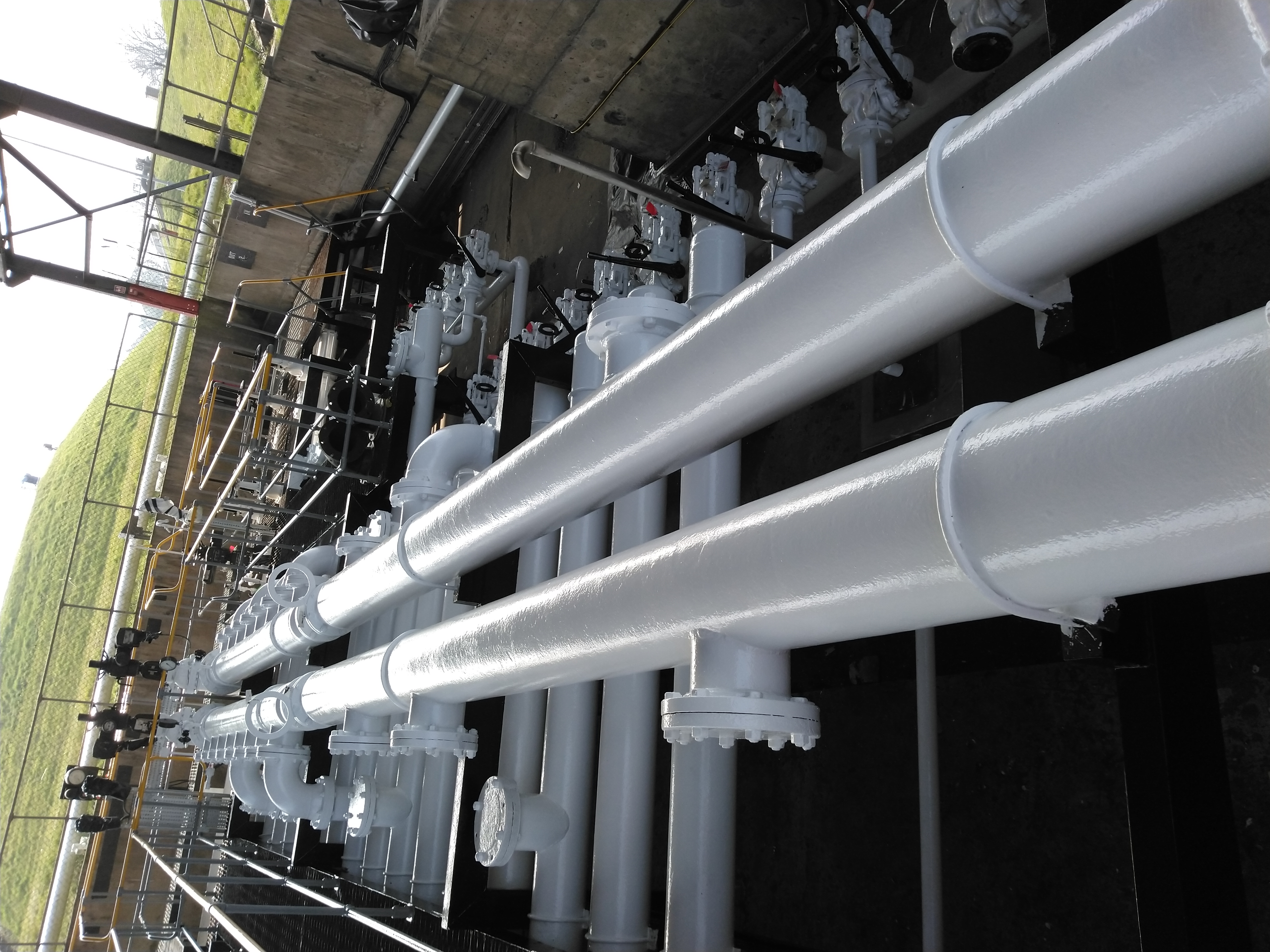 ---
The industrial painting of external surfaces often presents new and interesting challenges, for example
- how to safely access the structure?
- how to minimise the environmental impact of the works if it is out in the open / in an environmentally sensitive area?
- how to avoid the costly impact of inclement or adverse weather on the freshly applied coating?
- how to safely deliver the works alongside simultaneous operations on a live site?
- how to minimise the impact of the works on the surrounding work force / area / public?
Ferrous Protection can offer a bespoke project plan which addresses all of the above concerns and more by engaging with all key stakeholders in the planning stage and engaging our supply chain.
We can select the most suitable means of surface preparation and coating application for the individual project and have experience using a wide range of access systems such as encapsulated scaffolding, cherry pickers, scissor lifts, rope access, cradle access, mobile scaffolding and hop ups to name just a few. 
No matter how complex or complicated your requirement, we will work with you to select the most appropriate means of carrying out the work suitable for you and your site. 
To arrange a site survey or to discuss your bespoke requirement, please don't hesitate in contacting us at sales@ferrousprotection.co.uk
REQUEST A CALL BACK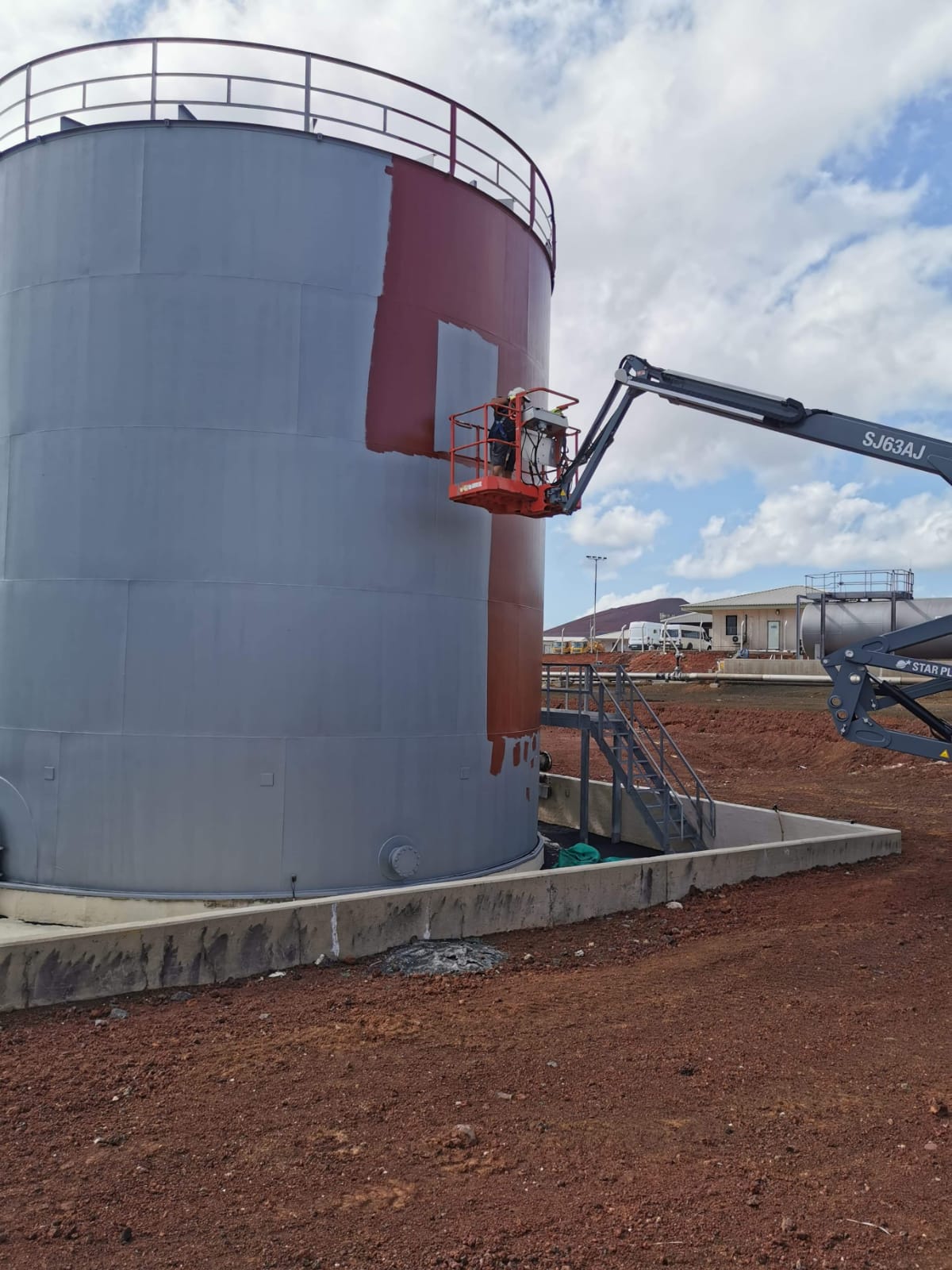 ---
Our Clients